OPINION: This week I sent an Official Information Act request to state and state-integrated schools in New Zealand querying as to what their policies are around teaching children about gender identity and sexual orientation. I also asked if any external organisations had advised the schools or provided training to students or teachers about the subject.
I did this because I am hearing from parents who are concerned about what their children are being taught because it is factually incorrect and ideological. Kiwi kids are being taught that there are multiple genders - sometimes over 100! They're being told that they may be "born in the wrong body" if they don't enact the stereotypes associated with their sex and they are being taught men can get pregnant. Ministry of Education guidelines (Years1-8, page 22) even advise teachers to avoid using the words "mum and dad".
I sought to find out how much of an issue this is in New Zealand schools and which lobby groups were exerting influence on teachers and administrators.
The 'Rainbow Lobby' is very influential in New Zealand and has a lot of connections with our current Government. There are multiple groups purporting to speak for 'the rainbow community' all espousing highly political and ideological ideas that the rest of society has not agreed to and sometimes isn't even aware of.
I am acutely aware of their clout as I am a lesbian who these groups have actively deplatformed using petitions and thugs veto tactics because I do not subscribe to their political world view.
It took all of a couple of hours for activists to get hold of my OIA request to schools and for a witchhunter to hold it aloft in the town square (Twitter). The pitchforks were gathered and the ritualistic character assassination began.
Barely an hour after that I was then alerted to some 'advice' a rainbow lobby group called InsideOUT had sent to schools and displayed on their website. It was this group in particular that I had heard about and the degree to which they have been involved in schools I hoped to discover.
InsideOUT's rapid move to coach schools on how to respond to my OIA request mere hours after it was sent and late in the evening, raised immediate red flags. Their carefully worded and lengthy advice seems to advise schools as to how they might get out of answering my questions. 
"Schools should consider carefully whether providing any of the information in the request may impact student privacy," they said. Were they attempting to scare schools out of sharing the information with me? At best it is utterly unnecessary as schools are well-versed on their obligations to student privacy; at worst a veiled threat. 
They provided copy and paste answers for schools to respond to me with. They recommend "responding briefly" and explain situations where a "blanket refusal" is allowed - in their view, anyway.
InsideOUT's annual reports do not provide dollar amounts, however in 2020-2021 they list the Ministry of Education, Ministry of Youth Development, Ministry of Social Development, Wellington City Council Social and Recreation Fund, and the New Zealand Lottery Grants Board (Department of Internal Affairs) among their funders. What exactly are our taxes funding?
My fishing expedition to scope out how the issue, which is particularly hot overseas in places like the USA and Great Britain, is playing out in New Zealand, just became much more interesting. I have a lot of questions, starting with: why is rainbow lobby group InsideOUT trying so hard to prevent information about their involvement in schools becoming public?
The group says their "mission is to work with youth, whānau, schools, community groups, youth services, government agencies and other relevant organisations to provide safer schools and communities for rainbow (LGBTQIA+) young people."
Managing Director Tabby Besley describes herself on the website as a "Pākehā queer femme". She founded InsideOUT in 2012 and appears to double as an astrologer and tarot card reader.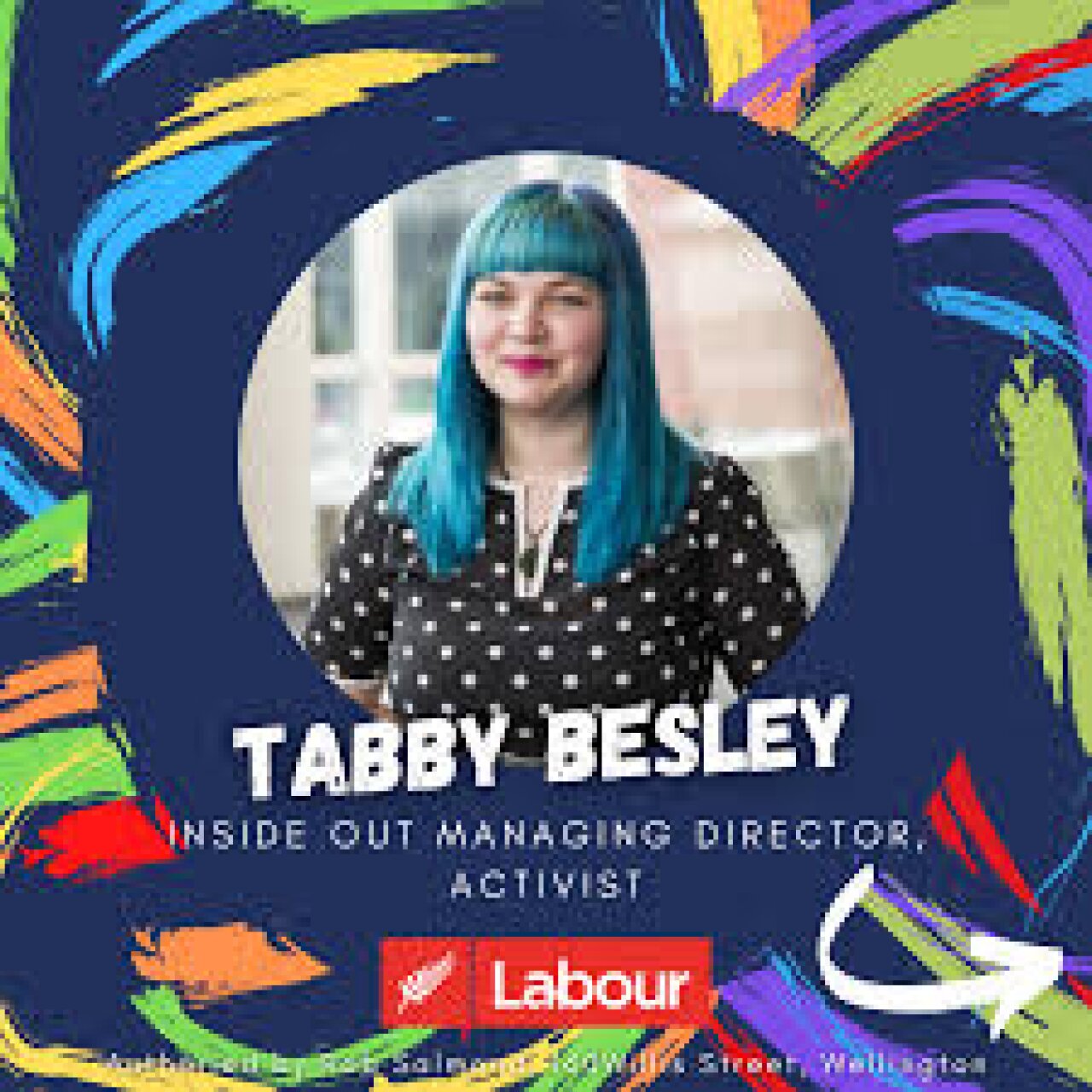 In another incident in which InsideOUT gave a talk to a group of public servants from a  Government Ministry, a government employee was disciplined for using what InsideOUT considered the 'wrong' terminology. The advisor had raised a question at the end with the presenter and soon after received a letter from the Deputy Chief Executive of the ministry, claiming that they had been 'offended and shocked' along with others due to her use of the term "male-bodied".
New Zealanders have a right to know the extent of the influence this group is having on public service and our education system. Parents are entitled to seek information about what their children are being taught especially regarding sensitive issues which they might want to handle within the family or whānau.
In various states in the USA currently parents are waging war on their school boards. Board members are being sacked, administrators are being raked over the coals, and in Florida they have even passed new laws in response. Parents have collectively woken up to some of the content that is being taught to their children in relation to sexual orientation and gender identity. Critical Race Theory is also being raised by these parents.
These parents are not, as some would have you believe, bigots who hate gays and trans people. You can find recordings online of speeches from very reasoned and empathetic parents who simply don't want their children to be exposed to age-inappropriate materials and groomed to keep secrets from their parents. Some children have spoken up too.
In Great Britain the Government has instructed schools that "teachers should not tell children that they might be a different gender based on their personality or the clothes they want to wear". Additionally schools have been discouraged from working with organisations that produce materials suggesting "non-conformity to gender stereotypes should be seen as synonymous with having a different gender identity".
The current British Government has taken a unique, principled stance in distancing itself from lobby groups like Mermaids and Stonewall. They have recognised that although they may be well-intentioned, there has been too much overreach and imposition of a niche ideology on the rest of society. 
The Platform will continue to investigate exactly what is going on in New Zealand. Standover tactics don't work on us. We are an independent media organisation and unafraid of looking under the rocks others pointedly avoid. The reaction we received to a simple OIA request has only confirmed to us that this is an issue worth looking into.